Thomaston Grammar assembly recognizes several students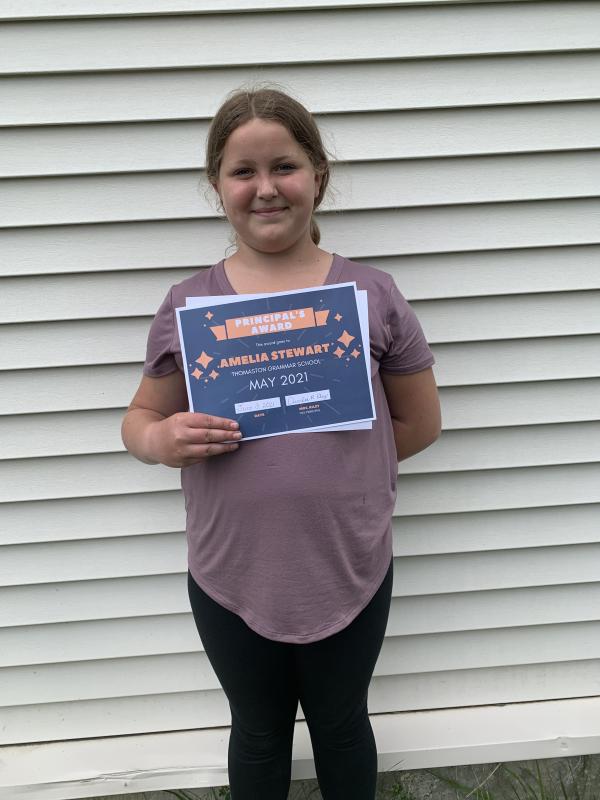 THOMASTON – Several students from Thomaston Grammar School were recognized at a school-wide Zoom assembly on June 3.
Perseverance Award were presented to Derrick Corson, Logan King, Piper McMahan, David Alvarez, Karsen Libby, Quinn Catapano-Kangas, Sophia Chen, Lincoln Quint, Naomi Thompson, Nadia Markwith, Lynell Gendron, Kaden Curtis and Alexis Whipple.
These students are students who are known to persevere. They face challenges head-on and do not back down. No matter how difficult, they are able to overcome it. They keep trying even when the going gets tough or messy.
Problem Solving Rewards went to Christina Reyna, Alyce Hare, Swayze Prior, Kate Elmore, Shawn King, Callie Colson, Rhys Hatch, Lucas Ogden, Nolan Sprowl, Liam Riley, Noah Blakey and Gabe Robertson. These students are excellent problem solvers. Problem solving is important in academics, but it is also important in our everyday life. Students who solve problems can do so when they finish their schoolwork. They are also able to solve problems that regularly arise in all aspects of their life. They are able to think on their feet and determine the best course of action.
Amelia Stewart received the Principal price. Amelia is an amazing member of the TGS community. She is patient, kind, trustworthy, responsible, respectful and so much more. She is a great problem solver which makes her a great partner, group member and classmate. She cares about her classmates and teachers and will do whatever she can to help them. She supports others and goes above and beyond to give of her time to be useful.
Recognition was also awarded to the NextGen Sea Dog Most Improved Student Award. These students included: Ethan Black, Norah Smith, Logan King, Evelyn Robertson, Jaxon Hopkins, Myles McMahon, Olive Grierson, Isabella O'Clair, Nolan Sprowl, Lynell Gendron, Owen Simmons, Amelia Fetchen, Amelia Sukeforth, Maya Catapano-Kangas, Eli Haynes, Owen Jordan, Alden Wakem, Jonathan Holom, David Alvarez, Owen McGowan, Piper McMahan, Mylee Anderson and Kasey Shepard. The students received a Sea Dogs certificate and a free ticket to a Sea Dogs game this month.
Natalie Jordan also received an award for being a finalist in the Maine Educator Cover Contest. Natalie's work will appear in print inside the magazine to be posted in June.
Congratulations to all the students who received awards at TGS this month!