Stars and Stripes – South Dakota Mines team uses cold spray to help Air Force repair B-1B Lancer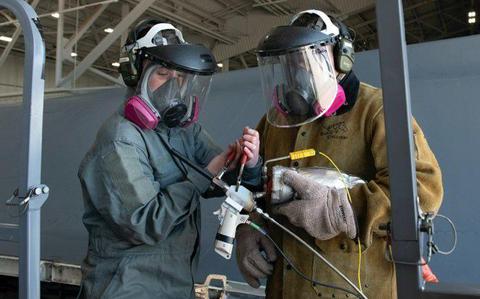 Staff Sgt. Chynna Patterson, a 28th Maintenance Group additive manufacturing spray technician, and David Darling, the 28th MXG additive manufacturing site manager, wait for the Raptor HRV cold spray machine to warm up at Ellsworth Air Force Base. The cold spray machine was developed by VRC Metal Systems. (Quentin K. Marx / US Air Force)
(Tribune News Service) – A team of students and faculty from South Dakota Mines helped Air Force personnel use cold spray technology to repair the broken hinge attached to the fuselage of a B-1B Lancer .
Cold spraying, an additive manufacturing method, is essentially spraying onto metal that can be machined to fit. The technology uses metallic microparticles which are sprayed at very high speeds. These tiny particles then adhere to the original metal upon impact, forming a dense coating or deposit. In many cases, cold spray can be used to restore worn and damaged aircraft parts to extend life.
Without the cold spray technology, repairing this aircraft would have required a lengthy repair process and an estimated cost of over half a million dollars, which would have included dismantling part of the aircraft and the supply of spare parts for a recovered bomber.
A B-1B Lancer takes off from Ellsworth Air Force Base, SD, April 16, 2020 (Quentin Marx / US Air Force)
"It would normally have involved eight weeks of downtime. With the cold spray we were able to do it in a matter of hours, "said Brian James, a PhD. graduate student in Mines and chief engineer of the 28th Maintenance Group at Ellsworth Air Force Base.
James, a member of a team inside the 15,000 square foot additive manufacturing plant in Ellsworth, said the innovative repair to this B-1 has been underway for 14 years. It started in the mid-2000s with research into cold spray technology at Mines looking to find better ways to restore obsolete and legacy aircraft components.
As research and development progressed over the years, this led to spinoffs and the addition of additive manufacturing technology to the 28th Maintenance Group's toolbox.
"This facility in Ellsworth is the first of its kind," said James. "What we're doing here is taking technology that has been tested and proven in the lab and injecting it directly into the combat level."
James noted that there is a long list of individuals, organizations and industry partners, political leaders who have contributed to the success of the program, including Dr. Heather Wilson, former Secretary of the Air Force and President of Mines , industrial partners like VRC Metal Systems, Army and Air Force Research Laboratories, and many Mining students and professors who have contributed hard work and expertise over the years.
"The school has been a big supporter, especially Dr Grant Crawford who helps us find solutions to the problems we have encountered along the way," said James. "More recently, the addition of the X-Force Fellowship program through the National Security Innovation Network brings young innovators to the table."
Zac Hogan, mechanical engineering graduate and member of X-Force de Mines, is the latest edition of Ellsworth's additive manufacturing team.
"It's wonderful to work on real world issues and there is creative freedom in the approach here," Hogan said. "What interests them is problem solving and how we do it is up to us. We are tackling the problem from all angles and working to make sure we are using all available resources to find solutions. "
Staff Sgt. Chynna Patterson, a machinist and welder assigned to 28 Maintenance Squadron in Ellsworth, spent 10 years working on other planes like the A-10 Warthog.
"This technology allows us to maintain the aircraft in a way that would previously have been very time consuming and very expensive," she said.
(c) 2021 Rapid City Journal, SD
Visit Rapid City Journal, SD at http://www.rapidcityjournal.com
Distributed by Tribune Content Agency, LLC.