American, Japanese students form friendships at cultural exchange camp in Iwakuni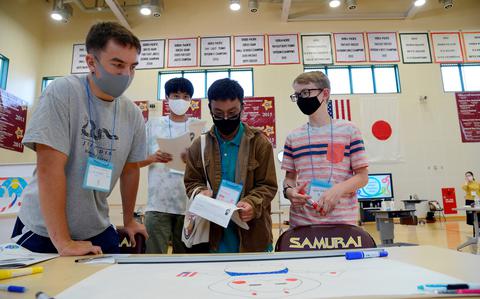 MARINE CORPS AIR STATION IWAKUNI, Japan – Thirty American and Japanese students gathered at this base near Hiroshima over the weekend for a cultural immersion program designed to help them grow as global thinkers.
Two-day global friendship camps are being held at several US military bases in Japan, the Defense Ministry's educational activity announced last month. They involve hands-on activities that aim to develop problem-solving skills, encourage a diverse perspective on the world and a sensitivity to accept the differences of others.
At MCAS Iwakuni Camp Saturday and Sunday at Matthew C. Perry High School, students taught each other greetings in their native languages ​​before working as a team to design and create artwork depicting the friendship between the United States and Japan.
One group incorporated a white snake, originally from the Iwakuni region and believed to bring good fortune. It was included with the American and Japanese flags drawn in the shape of a heart.
"It can be very stressful at first talking with people, but once you do, it's like talking with anyone else," 14-year-old Teresa Taylor told Stars and Stripes on Sunday. ninth grade student. "There is a bit of a language barrier, but we are working towards a happy medium. I learned to come out of my shell and also learned more about Iwakuni from a different perspective.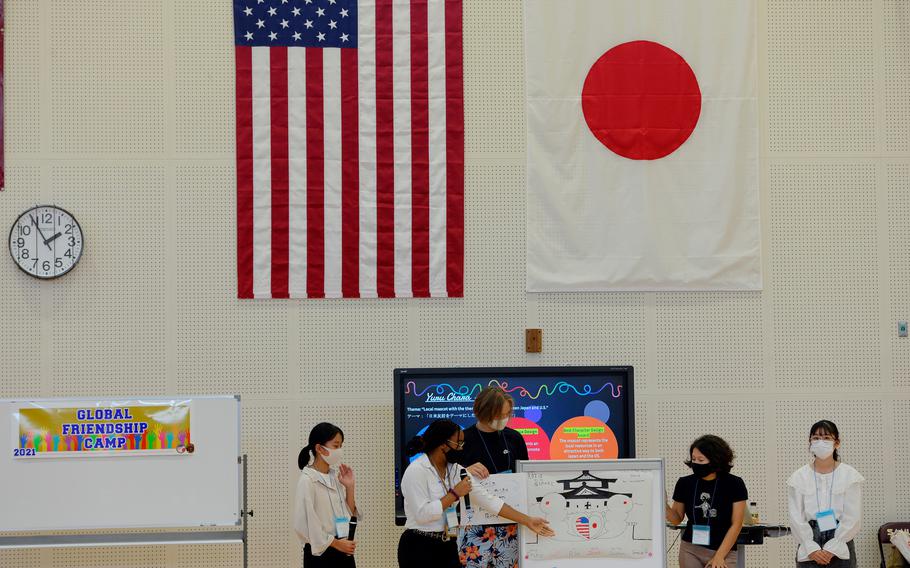 The students also had free time to talk and interact.
"One of the things I enjoyed watching the most about it was the unstructured activities, where students exchange contacts on social media and jump into the game on their own without a script and just build these relationships with friends and encourage each other, "MC Perry Principal Latressa Renee Cobb told Stars and Stripes on Sunday." It's a great partnership that we see developing over the two days.
The event ended on Sunday with a ceremony in which the students received awards for their projects from Iwakuni Town Major Yoshihiko Fukuda, MCAS Iwakuni Commander Col. Lance Lewis and Chief of DODEA-Pacific staff Todd Schlitz.
Upcoming camps are scheduled for October 23-25 ​​and February 5-6 at the Sasebo naval base; November 6-7 at MCAS Iwakuni; December 4-5 at Misawa Air Base; and from January 22 to 23 at the Yokosuka naval base.
Middle and high school students can enroll in the program, and Japanese students, who must have some fluency in English, are chosen from schools near the bases hosting the event.